Quickly and simply import quotes generated by Sales Assistant for Windows 2 using the easy-to-use import process we developed in collaboration with Multimicro Systems.
Eliminate the time and effort required to reenter quotes from SAW into Eclipse. In addition, you will avoid typing errors and shrink the time it takes to get quotes back to your customers.
Once a quote has been prepared in SAW, you simply export it to the MSG-IN folder on the Eclipse server, then run SAW Quote Import in Eclipse and verify that the quote is assigned to the correct customer account. A new bid is created in Eclipse and the Order Entry screen appears so you can review it and make any adjustments. It actually takes longer to describe this process then to do it!

Quotes are easily exported from SAW and loaded into the quote import work screen in Eterm. Lot detail items are automatically grouped by manufacturer code and linked to the lot line containing the same code. Also, stock items are matched to the corresponding Eclipse product when there's an obvious match.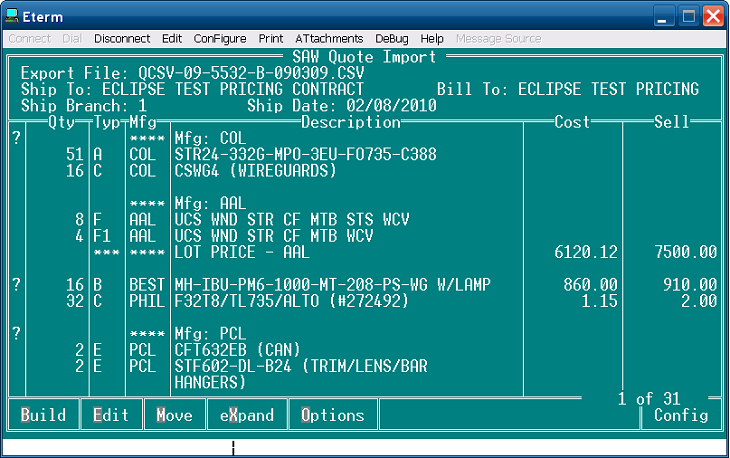 All items which are not automatically matched are indicated by a question mark. Easy-to-use tools allow the user to manually determine how these items are handled. Lot detail items not matched to lot lines are simply handled by grouping them together which establishes the link between the two. Unmatched stock items are connected to a product using the standard product search capabilities that are part of Eclipse. The sequence of items on the quote can be changed and items can be grouped together as desired. Also, descriptions and prices can be edited and existing items can be removed or new ones added during this process.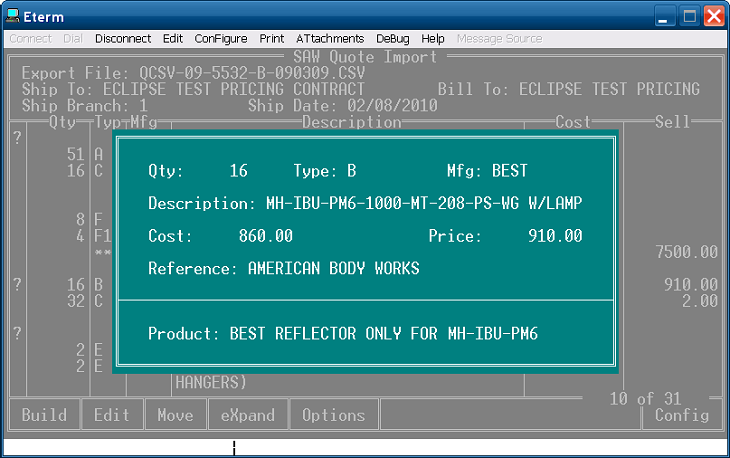 Once the imported data has been prepared, the user presses a hot-key to build the order in Eclipse. It can be built as a direct, a standard bid or a master job bid depending on how your company handles lots. Optionally, each lot can be put on a separate order if it's necessary to have a unique order number for each lot. After the order is built, it's displayed in the Eclipse order entry screen for review.
This straightforward procedure gives the user a visual overview of the data and the tools needed to match it to Eclipse. The result is significant productivity gains and better utilization of staff resources.
If you want to save time and avoid errors when using SAW with Eclipse, please contact us to discuss how our quote import program can help.