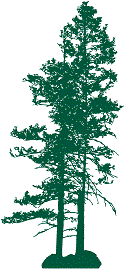 About Us
We named our business in admiration for the Ponderosa Pine, a tree that's commonly found in the foothills of the Rockies, where our company is based. It's known for being resistant to fire, insects and drought, as well as having the right combination of strength and flexibility to withstand extreme winds. We're inspired to incorporate robust, resilient qualities like these into the software we build.

Quality
Collaboration
Customer Satisfaction
Our work is driven by a commitment to meet or exceed the expectations of our customers and to provide good value. We gain a great deal of gratification when we're able to work closely with a company to design and implement solutions that satisfy their needs and have a real impact on their business.
For over six years (formerly as part of Optimum Systems) we've been providing solutions for Eclipse users that increase the benefits they get from their system.

Roy Olsen
Roy began his career in information technology with a distributor who just purchased the latest revolution in technology…the IBM XT! It was 1984 and Roy began automating the distributor's business operations. Since that time he has helped many small businesses, corporations and government agencies to use technology to streamline and enhance their operations. By combining technical expertise with a firm grasp of business challenges, Roy is able to offer solutions and explain technical scenarios in terms customers can understand.
In the late 90's, Roy joined Eclipse, Inc., eager to become part of growing company with a strong emphasis on customer service and satisfaction. He helped improve internal operations by developing programs that made it easier for people to get their jobs done. In 2007 he joined Optimum Systems for the purpose of expanding that company to serve Eclipse users. He now heads Ponderosa Innovative Solutions, which is dedicated to providing software that helps companies use Eclipse more effectively.
A resident of Colorado, Roy lives in the foothills of the Rocky Mountains where he can't get enough of the natural surroundings and gorgeous views. He's an avid hiker and a student of Zhong Yuan Qigong, an ancient Chinese practice for health and self-development.